Pas de la Casa-Grau Roig and Soldeu-El Tarter
Grandvalira ski resort
In 1956, the businessman and ski champion Francesc Viladomat installed the first ski lift on the peak of Coll Blanc in Pas de la Casa. Powered by a lorry engine, the lift could carry up to 450 skiers per hour. From then on, the resort grew at an average one new lift per year.
Seven years later, the first ski lift was installed in Soldeu, signalling the start of a project financed by private capital launched by the Baró, Salvans and Torrallardona families. The first automatic snow cannons were installed at Pas de la Casa-Grau Roig during the 1980s, whilst the Riba Escorxada sector, accessible from El Tarter opened at neighbouring Soldeu. 

In 1993, the Comú (local council) of Canillo became the majority shareholder in ENSISA (the company set up to operate Soldeu El Tarter), whilst Crèdit Andorrà became the second-largest stakeholder in the enterprise. 

The first 8-seater cable car in the Pyrenees began to operate in 1996, and a new sector, Canillo, opened. Meanwhile, the first six-seater detachable chairlift in the region entered into service at Pas de la Casa-Grau Roig, operated by SAETDE, in 1997. 

By 2003, the two resorts were physically connected.
The rest of the story you already know… it is Grandvalira.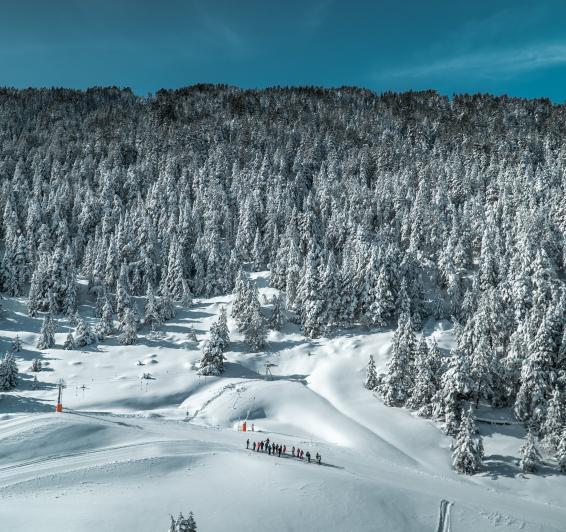 The start of a great adventure
That's how it all started
It was in October 2003. The boards of SAETDE and ENISA, the companies established to operate Pas de la Casa-Grau Roig and Soldeu-el Tarter, announced their long-awaited merger. As a result, the two Andorran ski resorts formed the largest skiable domain in the Pyrenees. And the name they gave it was Grandvalira.
Since then, Grandvalira has grown at an unstoppable rate. More and more facilities are added, season after season. Higher quality. More activities. More possibilities. In short, more experiences.
Today, Grandvalira is a reference domain in southern Europe and a leader in creating new mountain experiences, 365 days a year. And the plan for the future is to continue developing, in all ways, at the same rhythm.